The noted investor believes that the rise of India shouldn't simply be a reaction against the US and China, but should emanate from a spirit of cooperation with the rest of the world
Balaji talked about a range of things that India has the opportunity to build: the crypto products that can be built today, how regulators should think about crypto, how to sell your idea to a billionaire investor, why fintech is really a pony delivering mail etc
India can use its software might to propel itself into a future where all manufacturing is automated. The idea is not just to become self- sufficient but to export to the world, he said
This article is part of Inc42 Plus' — The Makers Summit India's largest product conference, supported by Netcore, Amplitude and HPE. Click here to know more.
Crypto evangelist and angel investor Balaji Srinivasan set the ball rolling at Inc42 Plus The Makers Summit 2021 with the keynote address and fireside chat on everything India needs to do to become the world's technology leader. The overarching theme of his address was the bipolar nature of the tech world so far, dominated by the US and China, and how India has the chance to end this hegemony.
Interestingly, his prescription for India doesn't entail doing things that would make it the next superpower. In contrast, in a world that is being increasingly flattened by technology, what India needs to do is become 'non-aligned': it should provide platforms that appeal to countries and communities across the world.  
Balaji talked about a range of things that India has the opportunity to build: the crypto products that can be built today, how regulators should think about crypto, how to sell your idea to a billionaire investor, why fintech is really a pony delivering mail, and much else.
If you missed the session, we have you covered: here are the top 10 takeaways from Balaji Srinivasan's keynote address at The Makers Summit 2021:
Know More About The Makers Summit
India Should Become The 'Bootloader' Of The World
The noted investor believes that the rise of India shouldn't simply be a reaction against the US and China, but should emanate from a spirit of cooperation with the rest of the world. The idea is not that India dominates the world but becomes the 'bootloader' of this world. A bootloader is a piece of software that boots up an operating system. 
That essentially means that India helps the world transition from the current US and China-dominated tech world order into something that's much more peer-to-peer and fair to all countries. The way to do this is to start with what India does best: software. We need to use software to become the base of media, finance, manufacturing, medicine, space and multilateral institutions.
Cryptocurrency Products Can Be Built Now
Currently, the most mature thing to pursue with cryptocurrency is build financial products, according to Balaji. Cryptocurrency is at a nascent stage of development now, just like the internet was in the late 1990s. The challenge for cryptocurrency right now is its bandwidth problem of on-chain capacity or the rate at which the number of transactions can be processed on a blockchain. 
"Today we don't think of bandwidth as a problem for the internet which is why Netflix can stream high definition movies but in its early days it had to just rent out DVDs ordered through the internet," said Balaji.
That's why building something like Google where the user enters a few search terms and it returned 10 links was a smart thing to do in the early days of the internet, rather than setting out to build a 'heavier' social network like Facebook. 
How Regulators Should Think About Cryptocurrency 
With multiple countries currently considering launching their national cryptocurrencies or digital currency — including India — there's a thought that even the governments that are currently against cryptocurrency might have to accommodate them in the future to protect their economic interests. 
Regulators need to think of bitcoin or other cryptocurrency as just another 'national' digital currency or cryptocurrency in a similar vein. The logic being why not accept a cryptocurrency that is used by 400 Mn people, as large a population as many nations.
Internationalising India Stack With Cryptocurrency
The cornerstone of India's rapid digital transformation has been India Stack: a group of software layers that connect citizens' bank accounts and digital identity. Perhaps, the biggest impact of this has been the development of the unified payments interface or UPI, a product that has received appreciation from the US Federal Reserve and is being exported to other countries. 
According to Balaji, India Stack should be internationalised with a cryptocurrency wallet. 
For example, smartphones don't just make domestic calls, they can make international ones — in the same way adding crypto to India Stack would help speed up its export to other countries. 
Another thing that India Stack needs to do is add in crypto to support decentralised protocols which will give Indians access to global financial markets. Decentralised protocols are peer to peer networks which don't have a central authority governing them — for example, the RBI has to keep record of every banking transaction in the country, but what makes crypto unique is it doesn't need such an authority. 
Can India Emerge As A Media Superpower? 
"There's a huge opportunity here, because with the West's decline, the only kinds of movies that they can make are like Black Mirror. Since the US establishment no longer wins the game of free speech and free markets, its media has declined. That's why they are just running sequels in Hollywood: the same kind of nonsense all the time. India can be the bright sun to the West's Black Mirror," — Balaji Srinivasan.
As India is culturally aspirational and hopeful with internet and smartphone penetration rising, it can tap into the spirit of a movie like Super 30 (based on the life of Anand Kumar, a mathematician who overcomes many challenges to help underprivileged student crack the IIT entrance exam) and globalise it so that anybody in any country can watch it. But that doesn't just apply to feature films: it's also about video games, memes and any content that has media built into it.
Know More About The Makers Summit
India can win in this space because there is a window of opportunity — a lot of new media in the future will be created with software on individual laptops with virtual influencers, and outside of Hollywood studios and its distribution networks. 
India As The Doctor Of The World
Indian physicians are respected all around the world and the country's generic drug industry has a foothold everywhere. So, according to Balaji, Indian medical industry could become the world's caregiver. 
With telemedicine becoming legal in many countries, a huge opportunity has opened up for healthtech products that can facilitate remote doctor consultations not only across the breadth of the country but also across the globe.
"What we can do is turn India into the doctor of the world with the combination of the Indian diaspora as connecting nodes everywhere, generic drugs, medical tourism and telemedicine. We can essentially allow anyone anywhere to access Indian doctors and drugs," said Balaji.
India's Chance To Become A Spacetech Giant
India is already launching satellites with increasing regularity thanks to the efforts of ISRO and a number of spacetech startups, but it needs to be more aggressive — ranging from attracting capital through foreign sovereign funds or public-private partnerships. According to Balaji, the Indian state should build a global coalition of space launch sites, unlike the US and China which are building military sites across the world.
"The country is relatively well-positioned for this because of its equatorial location and its ability to launch satellites is getting progressively better. Isro is already close to SpaceX in terms of launch cost," he said. 
This also links a non-obvious way to crypto because satellite internet enables decentralised crypto protocols. This will catalyse India's effort to become the bootloader of the free world because all of these satellites provide uncensorable access to crypto protocols — this would mean that India won't be deplatformed, and neither will India's partners. 
The Need To Go Beyond Fintech 
One of the most provocative comments that Balaji made was that finetch is a fancy front end for a pre-internet backend. He used an analogy to explain his argument, which certainly drew a few chuckles. "If your mail is transferred on the back of a pony across the country and then shows up on your screen, it's not really email." 
His point was that India has the chance to make the most of the opportunity offered by cryptocurrency and blockchain and this can be used to move beyond the trappings of even the current fintech ecosystem. 
Attracting Billionaire Investors 
In a fireside chat that followed the keynote address, WazirX founder and CEO Nischal Shetty asked Balaji how he makes his investment decisions. His response was surprising to many as he is not only a serial entrepreneur and angel investor but also was a general partner at storied Silicon valley VC firm Andreessen Horowitz. He said, "I really invest in the person. They may not have revenue or financials or even a codebase". 
According to Balaji, trying to network with investors in order to pitch them an idea in a physical setting is passé.
"One of the best ways to show you are competitive is to build a portfolio online. If you are pitching to a billionaire like Peter Thiel or Marc Andreessen, everybody wants money from them. You have to stand out and add value to them. Adding value in the first interaction is what always works in all sales interactions," he added.
Robotics, Automation To Fuel Atmanirbhar Bharat
India has been trying to catch up with China for the past couple of decades in manufacturing — every now and then we can hear clarion calls like Make In India and Atmanirbhar Bharat. But the reality is that becoming the factory of the world in the current state of manufacturing is a missed bus.
Balaji however sees hope. India can use its software might to propel itself into a future where all manufacturing is automated. The idea is not just to become self- sufficient but to export to the world. And the key thing about robotics is it erodes China's manufacturing advantage with automation. Once India can do this at home, it can then export robotic autarky to the rest of the world. 
"The right way to leapfrog Chinese manufacturing is just to obviate it and turn as much as possible into software… Once you get this to work, you can export robotic manufacturing, robotic agriculture and robotic food preparation. And this is how India becomes self-sufficient and enables other countries to become self-sufficient by buying our robots and exporting robotic autarky," said Balaji. 
Know More About The Makers Summit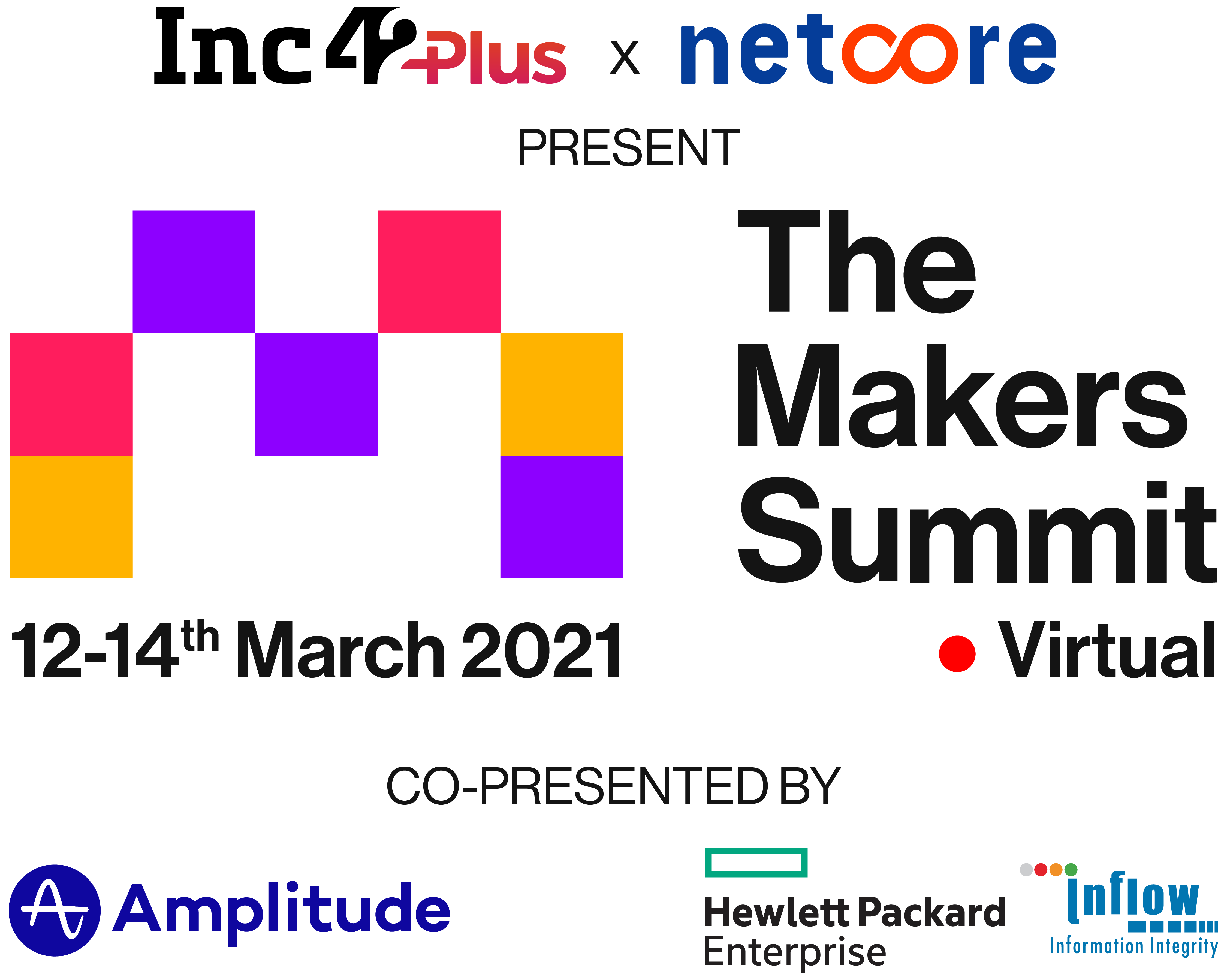 Join India's Largest Product Conference