Top founders and product evangelists will speak on exciting trends and milestones in product journeys in Keynotes and Firesides at TMS2021
Crypto evangelist, angel investor and serial entrepreneur Balaji Srinivasan will deliver the inaugural keynote on unlocking India's cryptocurrency economy
Byju Raveendran of Byju's, Gaurav Munjal of Unacademy, Bhavin Turakhia of Flock, Harsh Jain of Dream11 are among the star-studded line up of Keynotes and Firesides speakers
As the Indian startup ecosystem scales up, penetrating newer markets, a new and updated paradigm for product-building must be in place. This news paradigm must be built on local knowledge and should have answers to all the problems that the makers are likely to face in their journey while trying to build for the next billion customers. 
That is why Inc42 is bringing together the crème de la crème of the startup world and the makers' community to address the dearth of product insights, essential to fulfilling the requirements of India's vast and diverse market. We will meet at The Makers Summit 2021, a three-day online conference to be held on March 12-14.
While the TMS will witness founders and veteran product builders debate the frameworks best fitted for the 'Bharat' context in star-studded Panels, the much-awaited Masterclasses is where they will reveal exactly how they go about achieving their product goals. In the Keynotes, top founders and product evangelists will give detailed presentations on exciting trends and milestones in product journeys, and take a dialectical approach to decode product creation in Firesides.
What sets the Keynotes and Firesides apart from the other formats is that you will not only uncover the deepest insights of the top founders and thought leaders of the ecosystem, but also understand the decision-making processes each of them uses for product building.  
In sync with this aim, we will bring you a star-studded line-up of 20 fireside chats and keynote addresses from those at the helm of the startup ecosystem. They will lay out very clearly the frameworks they use on a day-to-day basis and reveal their game plans for the future. Here's a sneak peek at the Keynotes and Firesides we have planned:
Register For The Makers Summit
Unlocking India's Crypto Economy 
We discussed and debated a lot about what the opening keynote of The Makers Summit 2021 should be about. In the end,  it was clear that the immense possibilities using crypto as a base to build products is something that the ecosystem is craving to discuss.  Even as there are talks of the government banning cryptos, It is more important now, more than ever, to discuss its future and possibilities of evolution into becoming something that doesn't scare the government. 
And who better to talk about the future of crypto than Balaji S. Srinivasan? The former Coinbase CEO is one of the most notable crypto evangelists. His grounding in products as a veteran angel investor and his stint as a general partner at storied Silicon Valley VC firm Andreessen Horowitz makes him the most sought after personality in the world of cryptocurrencies. After Srinivasan sets the ball rolling with the inaugural keynote address, Balaji will be a part of a fireside chat on the crypto economy with Nischal Shetty, founder and CEO of crypto startup WazirX.
Engineering Bharat's Social Engine – Products Build On Network Effect
Unlike most social media startups, the first challenge for ShareChat did not involve the interface or the features. When the app came up in 2015, smartphones had penetrated the hinterlands but had not become mainstream. Moreover, the cheaper variants scored low on technical specifications and could not stream high-definition videos without buffering. At The Makers Summit, CEO and cofounder Ankush Sachdeva will outline what all went into creating a social engine for Bharat, from building a flywheel of features to drive user engagement to developing monetisation models that could work for the demographic.
Register For The Makers Summit
The Gamification Of Bharat – On Category-Creator Products, Retention As PMF Metric
Known for his blunt reviews,  Dream11 cofounder and CEO Harsh Jain has a few harsh words about  the quality of product management  in the country. He will talk at length about the product marketing hacks that helped the fantasy esport platform blitzscale, the multiple pivots he had to go through in creating a category-defining product, what lies behind Dream11's high organic user retention and much more. 
The Growth Mindset: On 10x Experiments & Finding PMF
The CEO of edtech unicorn Unacademy is a rare founder who blogs on products. Gaurav Munjal's fireside chat with his former boss and Flock founder Bhavin Turakhia is a discussion that no product person would like to miss. In an impromptu conversation, expect the duo to cover a wide array of topics, including product ideation, product-market fit, design thinking and more.
Full-Stack Fashion: Decoding Zilingo's 12x Growth 
How did Zilingo grow its buyer base 12x? What was its transition from a B2C marketplace to a B2B one like? Ankiti Bose, co-founder and CEO of Zilingo, will decode the company's full-stack product offerings for small businesses: marketplace for buyers, financing, SaaS and content marketing. Apart from these, the key learnings for you would be how to co-create your product with SMBs and what analytics means for small businesses.   
Notion's Moby Dick Playbook For Product Growth
"'Moby Dick' is written by one person," says Notion founder Ivan Zhao. "Adding another person doesn't necessarily give you a higher-quality 'Moby Dick.' It doesn't even necessarily make it faster." At a time when startups are always on the lookout for funding, the collaboration SaaS company frequently turned away investors until the pandemic hit. Then it picked up $80 Mn at a valuation of $2 Bn.   
Notion chief operating officer and former LinkedIn product head Akshay Kothari will be at The Makers Summit to help the audience understand the product roadmap and growth strategy. 
In a fireside chat with Charts.com founder Pallav Nadhani, the Silicon Valley executive will shed light on the product marketing hack that led to 4x growth in a year, differentiating in a crowded market, and  building with a lean team. 
Register For The Makers Summit
The Product Journey To One Of The World's Most Valuable Edtech Companies
The founder of BYJU'S will take us through the inflexion points of the edtech giant's product journey, right from its transition from offline to online to the pandemic year when it hit several milestones in a matter of months — amassing a student base of 50 Mn, reaching a valuation of $10 Bn and emerging as the most frugal edtech startup in India. Raveendran will reveal the product wizardry that helped the edtech startup scale despite many hiccups.
Fintech For Rebuilding India
What should be the fintech product roadmap of India as we aspire to become a $5 Trn economy? As digital transactions increase at a fast clip and the goal of financial inclusion is realised, the next milestone is to build fintech products that can cater to Bharat's needs and aspirations. That's why Razorpay cofounder and CTO Shashank Kumar and Monica Jasuja, product head of mobility solutions company Comviva, will decode the puzzle of making fintech products for Bharat in a fireside conversation. 
They will talk about extending the core loop of fintech products to multiple value propositions, co-creating with small merchants, finding product market fit with sachetisation and much more.
How To Build, Scale, Iterate For Bharat
Regardless of the Covid-19 pandemic, the year 2020 saw a record number of 11 startups from India join the coveted unicorn club. Among them is VerSe Innovation, but the company stands out from the rest for several reasons. To start with, VerSe is home to multiple businesses. The parent company of the news aggregation platform Dailyhunt focusses on vernacular content, and hence, appeals most to non-English-speaking readers. It has recently launched a short-video platform called Josh. And lastly, there is Greynium Technologies, which runs around 10 content platforms such as Oneindia, Gizbot, Boldsky.com and CareerIndia.
In a fireside chat, Verse founder Virendra Gupta will reveal the biggest misconceptions that the ecosystem has about building for Bharat, changing the product philosophy to differentiate in the face of competition and the importance of AI/ML in building a scalable product in Indic languages.
Register For The Makers Summit
Decoding The Product Engine Behind India's Gaming Moment
Mobile Premier League CEO and cofounder Sai Srinivas has been a product guy all along. Starting as a product manager at Zynga — the fountainhead of many product leaders in India — he went on to head several verticals at Airtel-owned Hike. In July 2018, he struck out on his own, started MPL and eventually found a backer in Virat Kohli. At The Makers Summit, we look forward to Srinivas revealing the product secrets which helped the company grow 4x in six months and hit the coveted billion-dollar GMV mark.
Scaling 10x In A Frugal Manner: Decoding Ixigo's Product Pivots
What were Ixigo's inflexion points in its product journey from a meta search platform to Ixibook to a full stack  OTA? Why did the unicorn playbook of cashbacks and discounts didn't work? What were the inexpensive growth hacking strategies it adopted? 
In a keynote presentation, CTO and cofounder of Ixigo Rajinish Kumar will dwell upon the secrets of building a new customer experience from scratch after a decade of starting up, the playbook of rebuilding a broken core loop in the product and the roadmap of scaling 10x from 3 Mn to 30 Mn monthly active users in 5 years.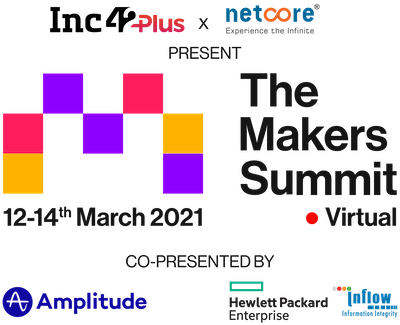 Join India's Largest Product Conference