We have carefully crafted a series of masterclasses with top product leaders, design heads and marketing honchos from companies like Microsoft, Swiggy, Dunzo, Bounce and Mixpanel
Inc42 is bringing together the crème de la crème of the startup world at The Makers Summit 2021, a three-day online conference to be held on March 12-14
Be it decoding the modern design stack or product marketing in SaaS, fixing the leaky retention bucket or incorporating emotional experiences in design — the Masterclasses will cover it all
A classic problem faced by many functional conferences is that they only offer macro points of view but fail to bring actionable takeaways which participants can implement the next morning. Experts wax eloquent about their playbooks but do not demonstrate how the equations behave when the variables change.
That is why we have carefully crafted a series of masterclasses with top product leaders, design heads and marketing honchos from storied companies like Microsoft, Swiggy, Dunzo, Bounce and Mixpanel. This is the category the audience loves — after all, who doesn't want to learn winning strategies and use them straightaway — and we are hustling to make sure that attendees can derive maximum benefit from the 18 Masterclasses to be featured in The Makers Summit.
As the Indian startup ecosystem grows by triggering mass adoption, a new, up-to-date and localised paradigm for product-building must be in place. That is why Inc42 is bringing together the crème de la crème of the startup world and the makers' community to address the dearth of product insights, essential to fulfill the requirements of India's vast and diverse market. We will meet at The Makers Summit 2021, a three-day online conference to be held on March 12-14.
While TMS will witness founders and veteran product builders debate the frameworks best fitted for the 'Bharat' context in star-studded Panels, take a dialectical approach for product creation in Fireside Chats and track the most exciting trends emerging from the product horizon in Keynotes, the much-awaited Masterclasses is where they will reveal exactly how they go about achieving their product goals. Here's a sneak peek at the Masterclasses we have planned:
Register For The Makers Summit
The Modern Design Stack
What are the tools and methods used by product designers at unicorn companies that see millions of transactions each month? The best way to learn about the modern design stack is to know about it from someone at the cutting edge of tech products and building a high-frequency, high growth product.
That's why the first Masterclass of The Makers Summit will be by Saptartshi Prakash, a senior product design manager at Swiggy. He will present case studies on how even small design changes can have a big impact on business goals. He  will also explain how motion design elements can improve user experience in apps and will showcase how AR, 3D and 360-degree view elements improve customer experience. 
Fix The Leaky Bucket – Taming The Retention Beast 
At a time when the country's tech startup ecosystem is booming with fresh products every day, the challenge is to retain customers with a superior value proposition day after day. Brijesh Bharadwaj, a senior product marketing manager at hyperlocal delivery startup Dunzo, will reveal the secrets of user retention in this Masterclass. 
With the help of detailed case studies and models to analyse user behavior to build a retention funnel, Bharadwaj will give the audience a glimpse of the strategies that helped Dunzo rev-up its retention engine. He will also show how to run successful A/B tests and experiments to create superior UX that brings users back to the platform. 
Emotional Design — How to Make Products People Will Love 
Nir Eyal, the guru of behavioural design in Silicon Valley, says that there is an 'emotional arbitrage' which makes people adopt tech products in their daily lives. Be it your favourite food delivery app or the ecommerce platform of your choice, all great tech products appeal to your emotions by easing a pain point and making your experience of getting a job done frictionless.
That's why Sruthi Sivakumar, the head of design at bike-sharing platform Bounce, will give a Masterclass on the intricacies of emotional design. Sivakumar will show how UX research can be used to build strong elements of emotional design, demonstrate the use of positive and negative experiences to build user engagement through curiosity, and delve into how voice features and sounds can trigger user behaviour.
Register For The Makers Summit
Managing Your Team Like A Product 
The product team lies at the centre of any product company — from harnessing the right customer acquisition channels for 100x growth to iterating features by analysing user feedback. While there's rightly a lot of focus on achieving product market-fit and blitzscaling for hyper growth, the mechanics of managing a product team hardly surfaces in discussions.
Dinesh Varadharajan, vice president of product management at Saas company Kissflow, will hold a Masterclass session to help founders and product leaders at early stage startups understand the ins and outs of marshalling the product function effectively. You can look forward to finding actionable insights on how to link product metrics to performance metrics of the product team, the architecture of high growth product teams, creating a culture that thrives on ideating 100x bets and a lot more.
How To Establish And Scale A Design System
A design system is a set of reusable components that, in combination with a set of rules and design tokens (referred to as entities), stores visual design information, like colors or spacing, and enables you to build consistent and accessible applications quickly.
One of the biggest challenges for a product designer is to create a design system that will be broad enough to accommodate the product's growth but is also tight enough to unify it. Many a time, early stage companies don't pay attention to the design system that will dictate the look and feel of the platform only to struggle with huge overheads later on.
Jaydeep Dutta, senior vice president & head of user experience at MakeMyTrip, will take the audience through all the essential components of a design system in his Masterclass. You can expect to learn how to approach documentation, set colour palettes, typography, grid definitions, create a pattern library of templates and modules, hold UI/UX audits et al.
Building Better Products With The JTBD Framework
One of the most revolutionary ideas in product building is the jobs-to-be-done (JTBD) framework. Though it has been extended to many facets of business and management, its basic premise remains simple — understand why your customers make the choices they do. In the age of data, it might sometimes be difficult to separate noise from insight — that's exactly where the JTBD framework comes to the rescue with a first-principles approach.
In this Masterclass, Shaheena Attarwala, a design manager at Microsoft, will not only delve deep into the nuances of JTBD theory, but also demonstrate how to use the framework to understand customer needs and align teams to build products that customers desire. She will help the audience in prioritising, defining, capturing and organising the inputs that are required to make product innovation possible.
Register For The Makers Summit
The Role Of Product Marketing In SaaS 
The product marketing mandate for a SaaS product is quite different from the rest. The target audience of your product might be small, the cost of shifting from a dominant player in the market might be high and the conversion of lead generated might be very low. If these seem like a lot already, you would be surprised to know that we have barely scratched the surface of the puzzle that product marketing in SaaS is.
What is better than to have a top product marketer from one of the most iconic SaaS companies help you navigate the troubled waters? That's why we are bringing Praval Singh, vice president of marketing and customer experience at Zoho, to host a Masterclass that will reveal the secrets of evangelising a SaaS product, churning out leads from the best customer acquisition channels, retaining users with newer value propositions and much more.
What They Don't Teach You At Design College
This session will not be just for the attendees who are fresh out of college and find themselves thrown into an intense product environment — with Sidharth of Hideout aka King Sidharth in the scheme of things, expect a session that will be full of laughter for anyone associated with the world of product building.
Of course, that doesn't mean it will be all play and no work. At the end of this masterclass, young design professionals will have a 3 Idiots moment — they will go back with renewed enthusiasm to put excellence ahead of success and get the know-how of how to tread the many thin lines that a designer has to walk every day.
Register For The Makers Summit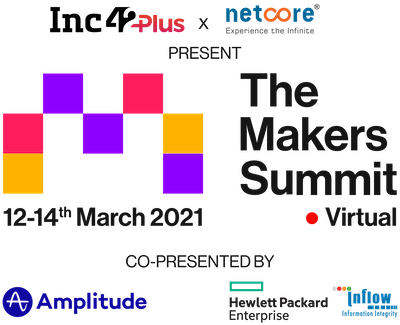 Join India's Largest Product Conference