This article is part of Inc42 Plus' upcoming conference — The Makers Summit India's largest product conference scheduled for 12th-14th March, supported by Netcore, Amplitude and HPE. Click here to know more.
Though India's startup ecosystem has grown by leaps and bounds in the last decade, the country is still behind product nations such as the US and Israel. However, with teeming tech talent and a demographic dividend that the country is primed to capitalise on, there's every reason to believe that India can become a product hub that not only caters to its 1.3 Bn population, but also creates tech-products that dominate the foreign markets. 
In an effort to bring together the country's best minds who are determined to get India a place at the global high table of product nations, Inc42 Plus is hosting The Makers Summit — India's largest virtual conference at the intersection of product, design and marketing from March 12-14. While 10,000+ product makers will congregate to take back actionable insights and network with the cream of the country's product leaders, we have also carefully crafted a programme that will add to your experience. 
Register For The Makers Summit
The TMS isn't going to be your regular conference where five talking heads are invited and given a topic to speak about. We value your time, and we value your presence. This is why we have chalked out, debated and iterated the content and learnings you will take back from  each of the 45+ sessions and 100+ speakers.  
That, however, does not mean that the whole journey at the TMS  will be choreographed to the T — there will be enough instances of counter-intuitive anecdotes that you will relish and hurry to be the first one to tweet. (FYI #TheMakersSummit2021 was already a huge Twitter trend on 9th March) 
And we will continue to trend over the next few days, as the who's who of the country's product ecosystem come at one place  to share their wisdom and learnings with you.
Crypto evangelist and former Andreessen Horowitz general partner Balaji Srinivasan, Notion COO and former LinkedIn product leader Akshay Kothari, Ankiti Bose of Zilingo, Radhika Gupta of Edelweiss will be there  — to name a few. 
The list of the big guys only gets bigger from here. As we will have founders of unicorns and soonicorns of the country. But, to make things clear, they will not be talking about valuations — something that gets reported everyday — but put the focus back on products: how they ideate, experiment, build, measure and iterate. 
Eager to know the big names? We will have Byju Raveendran of Byju's, Gaurav Munjal of Unacademy, Harsh Jain of Dream11, Sai Srinivas of Mobile Premier League, Ankush Sachdeva of Sharechat, Shashank Kumar of Razorpay, Mabel Chacko Cofounder & COO, Open; Mona Gandhi Founder, Upraised and Raghav Chandra of Urban Company. 
While we are proud to have created a power-packed list of leaders from India's tech ecosystem, this extravaganza of leading product minds and founders wouldn't have been possible without the support of our presenting partner Netcore and co-presenting sponsors Amplitude, Hewlett Packard Enterprises and Inflow Technologies.
"In this age of product led growth, building products with amazing user experiences is the need of the hour! More importantly it's about getting the product managers into a mind-set of agility & experimentation. And a platform like this, reinforces the message, with stories from leading unicorns of the world!", says Kalpit Jain, Group CEO of Netcore.
Echoing the thoughts, Julio Bermudez, VP APAC and LATAM, Amplitude says "The pace at which India innovates, both for an ever-evolving world scenario and its own changing demographics, is truly remarkable. Amid the high-growth environment, there's a need to create avenues for knowledge-sharing and make the most of this opportunity".
To give you a sneak peek into what's in store at India's biggest conference for makers, here we are outlining the eight things you will miss if you aren't at The Makers Summit:
Register For The Makers Summit
Firesides And Keynotes With The Movers And Shakers
How do unicorn and soonicorn founders ideate new products? How do they see their sectors evolving? The fireside chats and keynote presentations are designed to help the makers get a sneak peek into the minds of the top founders from the Indian tech-ecosystem and obtain actionable insights into solving the next billion-dollar problem. 
15+ Masterclasses For Step-By-Step Hand-Holding 
A classic problem faced by many functional conferences is that they only offer macro points of view but fail to bring actionable takeaways which participants can implement the next morning. Experts wax eloquent about their playbooks but do not demonstrate how the equations behave when the variables are tweaked.
That is why we have carefully crafted a series of masterclasses with top product leaders, design heads and marketing honchos from storied companies like Microsoft, Swiggy, Dunzo, Bounce and Mixpanel. For a detailed preview of all the masterclasses we have planned, click here.
Panels To Decode Product Themes For Bharat
These will be of two kinds of panels at the summit. A chunk of them will deal with specific sectors such as The Product Playbook For India's Rising D2C Brands, Reshaping The Future Of India's Financial Services, and the likes. They will offer a rare route map, helping people understand the product architecture of niche segments and how they can leverage these learnings to develop their own products.
The other set of panels will be more functional. Here, makers can master the essentials of attaining product-market fit in India, explore how to put together product teams at various stages of growth, get the hang of VC maths that should be kept in mind while building and scaling subscription products and learn other ground realities of business.
Register For The Makers Summit
Asking Questions To Iconic Product Leaders
We don't believe in a one-way flow of ideas. That's why at the end of each hour-long session, there will be 15 minutes for the speakers to take questions from the audience. As we had seen during The Product Summit last year, a lot of great insights are mined from the Q&A section by the audience. It throw up light hearted moments too: for instance, in the fireside session with Zerodha's Nithin Kamath, someone asked about a poster of Lionel Messi in the backdrop. And we came to know of the fintech founder's sporting inspiration. 
Find Product Talent And Network With The Best
The Makers Summit is a rare catchment area for talent: if you are a founder or are looking for cofounders, there wouldn't be a better place to choose from. Not only that, the summit will be a paradise for any product leader who is looking to hire young talent as product, design and marketing professionals with 2-7 years of experience is our biggest cohort.
The Makers Summit App Experience
This summit will be unlike any other conference you have attended in the country. We understand that weekends have a lot packed in and one might be interested in attending only 10 of the 50+ sessions. In any other event, it would be difficult for you to keep track of the sessions you want to attend. But not at TMS2021. We have built an app experience exclusively for TMS attendees so that keeping a tab on particular sessions, posting queries and networking with your peers is super easy.  
In the era of new normal, the most important thing for any product is to merge the convenience of digital experiences with the personal touch of offline. And that's what we intend to do with the app. 
Register For The Makers Summit
Win Contests, Get Noticed
One of the biggest attractions of The Makers Summit will be the contests that will take place in our masterclasses. We understand that it's the weekend and you need that extra bit of incentive to be at the peak of your attention to be able to soak in everything. That's not all. These masterclasses are being taken by senior product leaders. Get their attention with your performance and who knows — you might score a gig at your dream product company.
100+ Speakers 
Though we loved Rishabh Pant's scintillating 101 in Ahmedabad a few days ago, that's not the reason we have as many speakers. Neither was it any astrologer's suggestion. But yes, if you could glean one core idea from what each speaker has to say — you might be able to land a multimillion dollar book deal with a title on the lines of '101 Product Ideas…'
Putting jokes aside, it was our earnest effort to reach out to the best product minds in the country and they were only too pleased to be able to help young makers through their experience and insights.   
We assure you that by the end of The Makers Summit, those who have been through this three-day conference will be able to get a crystal clear picture of what makes a successful product, how to build a team, figuring out the competitive edge in products, and how to make products for billions of users.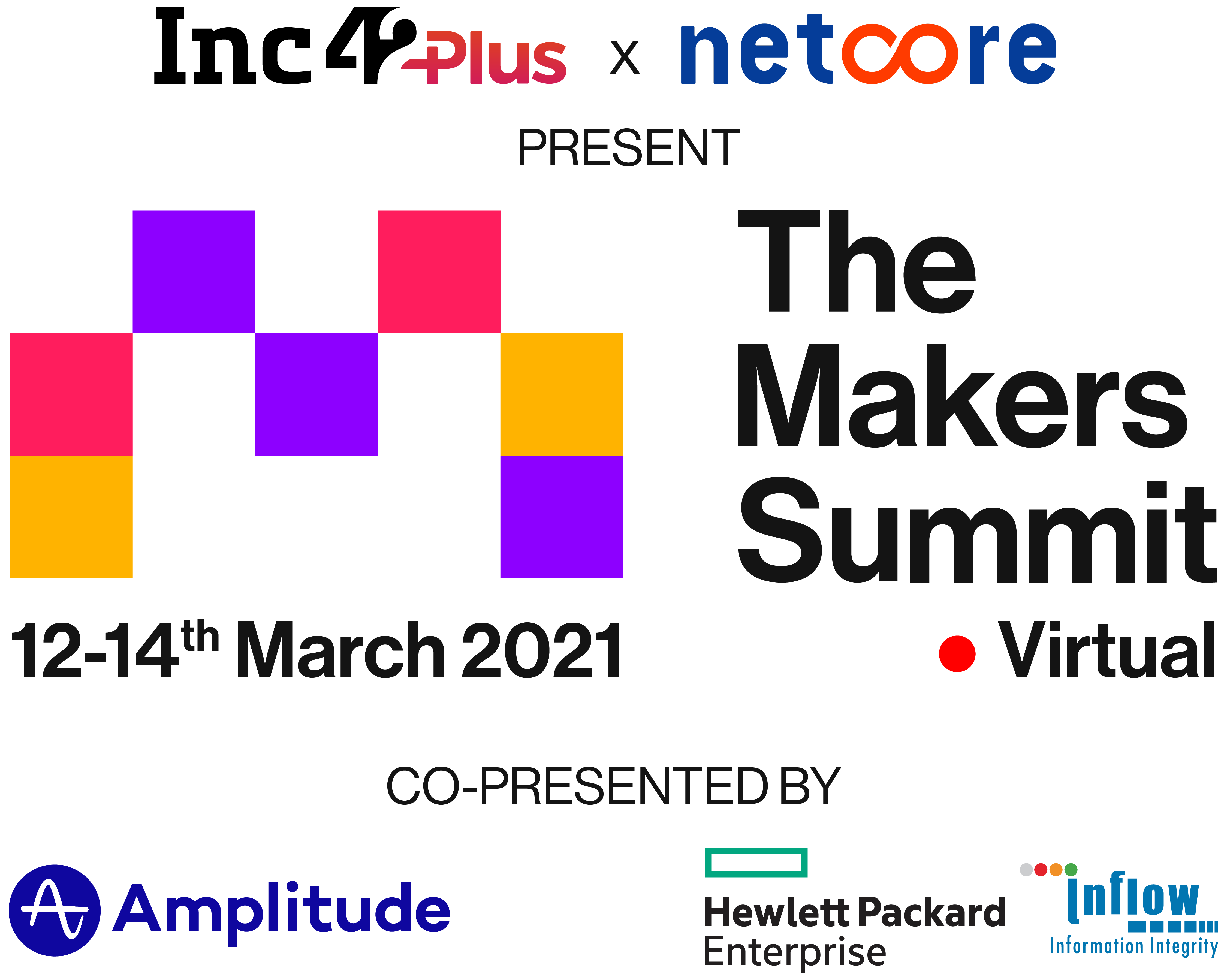 Join India's Largest Product Conference