New concepts and ideas are changing the shape of the market every day and it has become incredibly important for a product manager to stay updated with the latest trends. In an ever changing world moving at a break-neck speed, podcasts offer a great way to keep up with tech, business and the product world.
The podcast world is filled with really interesting and informative offerings on product management, but we decided to curate a list of the best podcasts every product  manager should listen to.
To create the ultimate list of podcasts, we asked the top product leaders and founders about their favorite ones in a virtual conference in the run-up to The Makers Summit 2021. These veterans of the product world will also be present at the TMS event, a virtual conference at the intersection of product, design and marketing, hosted by Inc42 from March 12-14.
Register For The Makers Summit
So, here are the best product management podcasts every maker should listen to.
The Futur
Recommended by Saptarshi Prakash, senior product design manager of Swiggy, The Futur is a podcast that explores the interesting overlap between design, marketing and business. The show is hosted by Chris Do who is an Emmy award winning designer and founder and ceo of Blind Inc, a design/brand consultancy company. In the show, Chris Do holds candid conversations with inspirational people from the world of design, tech, marketing, business and more. The host claims his aim is to help the listener learn from these deep conversations which explore these inspiring figures and what drives them to do what they do. 
This weekly podcast currently has 126 episodes. If inspiration and knowledge from other's experience is your aim, then this podcast is the right one for you.
Register For The Makers Summit
The Seen And The Unseen
The podcast borrows its name from Frédéric Bastiat's famous essay 'That which is seen and that which is unseen', which delves into looking at both the visible consequences and the unintended consequences or ripple effects when evaluating any action. The Seen And The Unseen picks up various issues and current happenings in the country to analyse its consequences. The podcast also invites guests to the show for a candid but in-depth conversation on their area of expertise. Some of the famous personalities which appeared on the show include Padma Bhushan awardee Ramchandra Guha, Shashi Tharoor, and Harsha Bhogle among others.  
Mostly dealing with politics, economics and behavioral science, the podcast picks up tons of topics in and around the product world. In their recent episode titled 'A Venture capitalist looks at the world', Sajith Pai, VC at Blume Ventures talked about the viewpoints of an investor and how an investor's job is to bet on the future. The show is hosted by Amit Varma, a Mumbai based writer, journalist and winner of the Bastiat prize for Journalism in 2007 and 2015. Sairee Chahal, founder of Sheroes, notes it as one of her favorite podcasts.
Releasing every Monday, the podcast currently has 213 engaging episodes that will definitely make you look at the world from a different perspective.
This Week In Startups
Describing itself as 'the most interesting, outrageous & illuminating stories from the world of entrepreneurship', this podcast, as suggested by its name, is all about startups. Hosted by Jason Calcanis, an angel investor, and a rotating group of guest experts present an insider's look at what's happening in the tech industry. Tackling some of the most frequent questions like 'how to start your own startup', 'how to motivate your team', 'strategies to improve your business' and more, This Week In Startups is a confluence of knowledge, insight and entertainment. 
Running for 13 years straight, this podcast has become a well known name in the entrepreneurship world. To save yourself from the clutter and to make it easy for the audience to find a topic of their interest, the website also allows you to sort through the content based on categories like healthcare, science, startup basics, media/journalism etc., instead of going by chronological order. 
Ramneek Khurana, cofounder of Lenskart, mentions this podcast as one of his top suggestions.
Register For The Makers Summit
Use Case 
Use Case podcast explores the startup world in India and focuses on spreading knowledge from some of the most accomplished entrepreneurs, investors and CXOs in the country. The podcast is hosted by Jayadevan, a guy with multiple titles. Evangelist at Freshworks, commissioned author at HarperCollins and a columnist at Moneycontrol, Jayadevan uses his oratory skills and insightful knowledge in the startup scene to bring out topics which everyone can benefit from. 
The podcast has some big names in the startup scene as guests who sit down for a conversation and share their knowledge and experience. Some of the famous guests on the show include Pratik Poddar, VP of Nexus Venture Partners, Chris Saad, ex head of product at Uber Development Platform, Robin Dhanwani, product designer and founder of Parallel among others.  
Vikrama Dhiman, head of product at Gojek is a fan of this podcast and believes that every budding maker must listen to it.
How I Built This
Presented by NPR, one of the biggest names in producing podcasts centered around knowledge and insight, How I Built This dives into the stories behind some of the world's best known companies. Described as 'one of the most popular podcasters in history', Guy Raz walks you through the podcast, weaving a narrative journey about innovators, entrepreneurs and idealists  — and the movement they built. 
The podcast invites leaders of companies to share their journey and life experiences and talk about how they started from zero to create an empire that changed the world for better and leaving a legacy that will stay long after they're gone. 
Ramneek Khurana from Lenskart chose to recommend this podcast to everyone who aspires to create an empire of their own someday.
Register For The Makers Summit
Naval
This is one of the most interesting picks in this list. Unlike most podcasts mentioned so far,  Naval isn't backed by any big production house. Naval is also one of the few podcasts which provide a full transcript of their entire episode, in case you prefer reading. 
Recommended to us by Saptarshi Prakash from Swiggy, Naval is a podcast which breaks down complicated themes into simple ideas to explain what these things are all about and how can anyone leverage these ideas to create a better product of their own. Some of our own personal favorite episodes are 'Happiness is peace in motion', 'How innovation works (part 1 and 2)', and 'Groups search for consensus, individuals search for truth'. These episodes provide a very unique perspective on things we thought we already understood. 
The podcast is hosted by Matthew White Ridley, popularly known as Matt Ridley, a British author, journalist and a businessman. His most famous works include 'The rational optimist' and 'Evolution of everything'.
Master Of Scale
Reid Hoffman needs no introduction but for those of you who don't know him, he is the cofounder and former executive chairman of Linkedin, board member at Microsoft, Coda, Blocksteam, Convoy and Aurora, and partner at Greylock. So when someone who committed his  entire life to the product world and helped create some of the well known products in the world decides to start a podcast, you have to take notice.
Committing his podcast towards gender balance of guests, Master of Scale shows the journey of creating a product at its infancy and scaling it to gazillion. With every episode, Hoffman sits with his guests and tests out his theories on the product world, showcasing how scaling is about strategy and vision. 
Recommended to us by Sairee Chahal from Sheores and Dinesh Varadharajan from Kissflow, this is one of the must listen podcasts for those aspiring to become a product manager. 
Register For The Makers Summit
The Knowledge Project Podcast
If knowledge is what you seek and your curiosity knows no bounds, then this podcast is for you. In a nutshell, The Knowledge Project is about better thinking, problem solving and decision making. While the subject matter doesn't directly relate to product management, you would be surprised to see how some of these topics directly apply to the world of a product manager. The podcast takes thought leadership to a new height altogether. 
The podcast states that its aim is to help you think, reflect, and better understand the complexities and interconnections in the world in which we live. However, the most interesting part of the podcast is the host himself. Shane Parrish was a former Canadian spy, working in cybersecurity at Canada's top intelligence agency. These days, he works towards bettering entrepreneurs through his website where he offers strategies for self-betterment. 
Recommended by Vikrama Dhiman of Gojek, the podcast has some really fascinating guests featuring to share their ideas and knowledge. Some of these experts include Daniel Kahnemann, famous psychologist and Nobel laureate  of the Thinking Fast and Slow fame, famous American author Jim Collins, Chris Voss, former lead kidnapping negotiator for FBI and more. 
Pivot
What happens when an advertising theorist and marketing professor comes together with 'silicon valley's most powerful tech journalist'? The answer to that is Pivot, a podcast which offers sharp, unfiltered insights into the biggest stories in tech, business and politics. Styled in a very unorthodox fashion, this duo makes tech and business fun. If you like your daily dose of information about tech and startup space with a tinge of humor, then Pivot will fit right in your essential podcasting list. 
Hosted by Kara Swisher, tech journalist and Scott Galloway, professor of marketing, Pivot releases episodes every three days. The podcast covers some really interesting topics such as Facebook's Australia blackout, Tesla's investment in bitcoins, The Gamestop saga and more. This podcast is the final suggestion by Khurana and we can't recommend it enough.
Register For The Makers Summit
On Being Project
A Peabody award-winning podcast, On Being is the most unique podcast on this list. It doesn't really talk about startups, product management, or tech space. In fact, the podcast sometimes talks about topics like spirituality, social healing, poetry and arts. Although it may seem like this podcast is an outlier in this list, the truth is far from it. The podcast is focussed on deep thinking and moral imagination, social courage and joy, and most importantly, the immensity of life. 
These are all the qualities a product manager must have in order to not only build a world class product, but to understand, empathise and be able to maximise the potential of their team. In the end, the startup ecosystem is all about improving the quality of life and how you can achieve that without understanding and celebrating the essence of life? The podcast is hosted by American journalist Krista Tippett and her engaging and interactive narration  through the episodes truly makes the show special. 
This podcast was recommended to us by Chahal and the list couldn't be complete without it.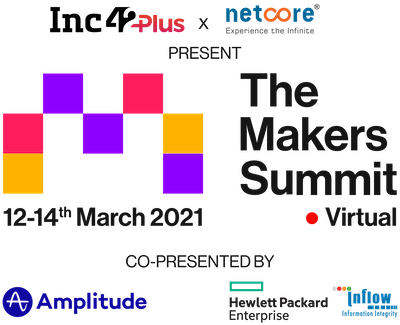 Join India's Largest Product Conference