On March 13, 2020, my wife and I went out to dinner with my dad in Brooklyn. That would be our last time indoors in a New York City restaurant. The next day, an 82-year-old woman in Brooklyn with emphysema would be the state's first COVID-19 death.
Schools and everything else closed the next week. Within a month, over 10,000 New York City residents would be dead, representing nearly half of all of the deaths in the country at the time.
We live along a well-traveled ambulance path. It felt like there were sirens happening every ten minutes.
The speed of that initial spread caught the state and local governments flat-footed. Early mistakes proved costly and it would be months before there were even any glimpses of normalcy.
As the virus spread and the world went into a state of work from home, the media questioned whether "New York is dead."
If it wasn't necessary to work in physical proximity to your co-workers, if your favorite restaurant shuttered and if your kid's school went remote, why stay?
At least, that's what Mayoral hopeful Andrew Yang and many, many others thought, too.
When even a guy trying to be Mayor of your city leaves it…
As they say, "Houston St., we have a problem."
(Don't @ me… I know.)
Those of us who didn't leave, however, caught a glimpse during the summer of what a more intentionally open, outdoorsy New York might look like…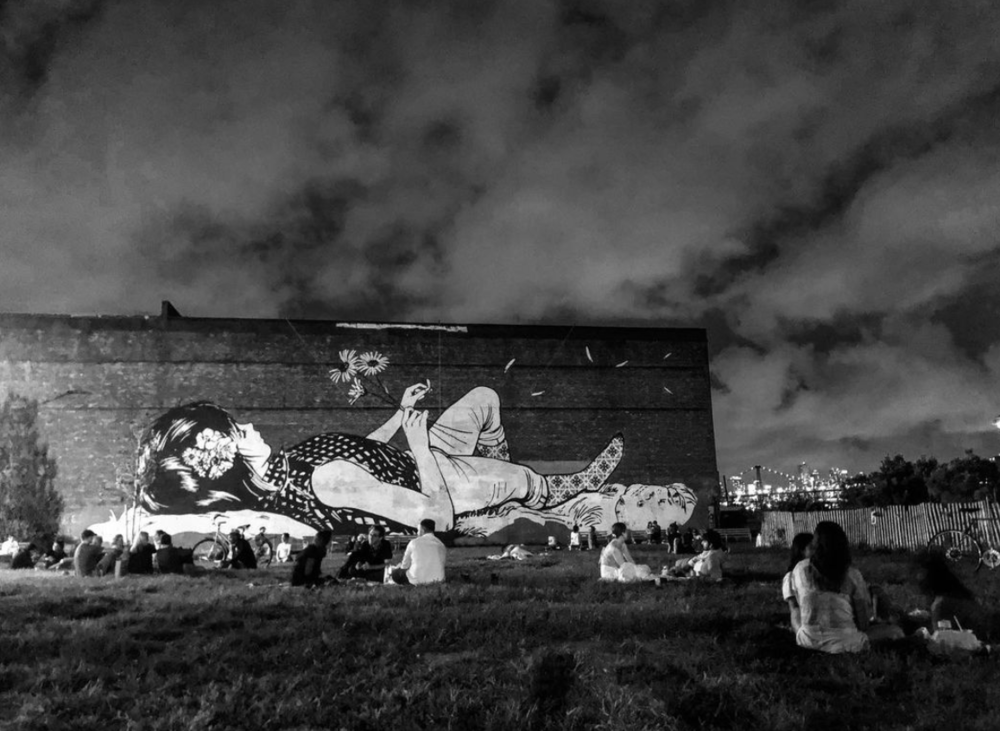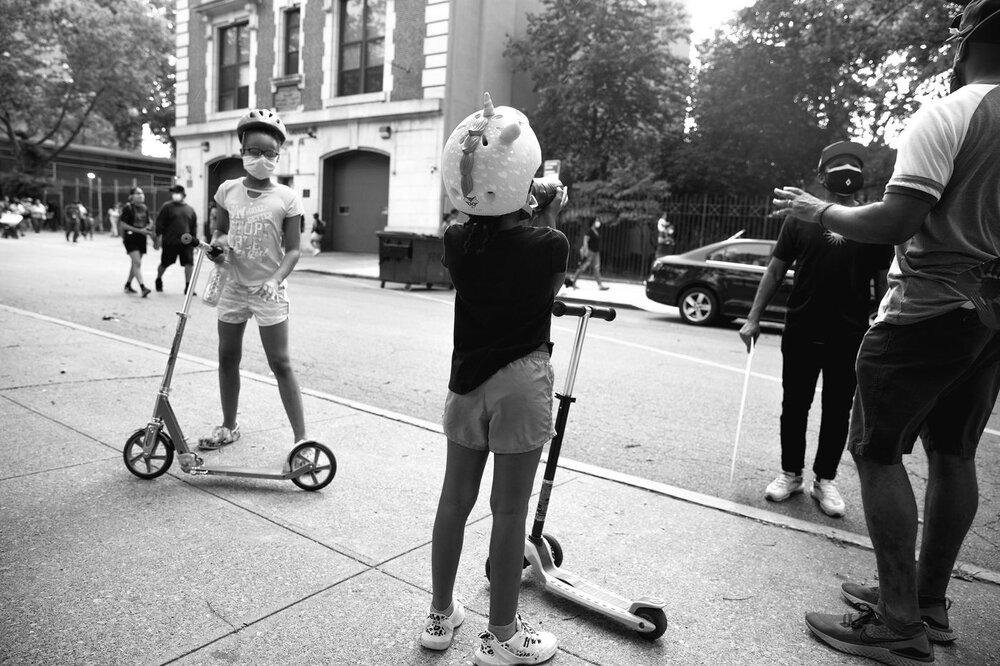 Streets were opened for play and for socially distanced gathering. Restaurants made spaces otherwise intended for cars into outdoor dining. Protected bike lanes were added. Electric scooters were legalized. Summer camps for kids opened outdoors and parks were full of people.
And there was music, everywhere.
Moreover than just becoming more outdoorsy, however, New Yorkers showed that they cared for each other. Mutual aid organizations popped up across neighborhoods left and right. Racial equity protests campaigned hard for change in how policing is done.
There were and are still huge disparities in employment and economic situations and the virus persists—all problems that still need to get solved. But, if you were lucky enough to still be working, New York City was—dare I say it—fun.
Moreover, it was fun in a way that it perhaps hadn't been since I was a kid in Brooklyn. It was fun at the street level, across many neighborhoods. While previously on a summer night you might hop the train to go to a baseball game or gone into the city to go to a restaurant or show, people stayed local, discovering new stores and places to eat within walking distance.
But New York isn't just a local city—it's a national one. New Yorkers worked hard to phonebank for the Presidential election. We made donations, wrote letters, and did what we could to secure Joe Biden's victory.
It felt like a win for New York City—our diversity and our valued immigrant population.
We took to the streets to celebrate.
That celebration was a bit short-lived as the creeping fears of how far Trump and his allies would go to keep him in office took hold. The "Big Lie" of a stolen election was perpetrated by politicians from places like Texas and Florida—the kinds of places New Yorkers were escaping to that had promised better alternatives to our local tech community.
Come to Miami! Don't mind the attempted coup supported by our Governor and our Senators!
Come to Austin!
Yeah, um, same deal, but even worse.
Oh, and don't mind our completely deregulated electrical grid designed around a paranoid fear of national government and shameless prioritization of profits over people.
Good luck getting me to move to any startup city in a state run by people who deny climate change, seek to thwart democracy through voter suppression, and that sees proper oversight of vital infrastructure as a financial burden too great to bother with.
It's just another example of how the promise of being more tech-oriented doesn't actually make me want to live in that place. If you hadn't noticed—my industry…
well…
Sucks.
Name me a more ego-driven, self-aggrandizing ecosystem that is less self-aware and less concerned about the ancillary effects of its actions.
Go ahead, I'll wait.
That's why I'd rather stay here, in a community where tech is just a part of a much bigger ecosystem full of lots of different types of people.
I was reading NYC Mayoral hopeful Kathryn Garcia's Plan for Reopening. She's been putting out plans for the problems we face right now—as opposed to just the ones she would face as Mayor.
In it, she writes about the potential of New York City that resides in the people who stuck it out:
"…The thing that makes us New York hasn't gone away. We are the city that never sleeps because of our "only-in-my-neighborhood" shops, the hole in the wall places with the best ramen and our street artists and performers. The people who run our restaurants, theaters, salons, bodegas, dance clubs, gyms, and museums – all that creative talent is still here."
I love being in New York City because it's not first and foremost a "Bitcoin and Crypto Hub" (which doesn't even make sense because those things are all about decentralization).
I love being in New York City because I'm friends with an aerialist, social workers, doulas, cooks, teachers, actors, professional triathletes, bankers, lawyers, emergency service workers and sure, software developers, too.
I'm part of a non-profit kayaking program whose most recent committee volunteer is a Black female ironworker who first spotted our activities in the East River hanging off the Brooklyn Bridge while on the job.
She's more focused on starting her own construction business and not on the price of bitcoin and I love that New York City life crosses our paths.
It's a direct contrast to the monoindustry of the Bay Area—a tightly concentrated network of influence, wealth, and power. I used to think it was just how it happened to come together—just the nature of the beast of a multi-generational focal point of entrepreneurial success.
Yet, over the last few years, it feels more and more obvious that much of this network simply does not care about the ancillary effects of what it builds or the uneven power structures it creates. If you've spent any time on Clubhouse, that feels even more like a feature and not a bug.
Kathryn Garcia's reopening platform wants to help "CUNY students to become the next generation of NYC entrepreneurs".
That's the kind of entrepreneurial city I want to live in—one that specifically aims to facilitate access from previously underrepresented and underinvested in communities. I have no interest in moving to a place like Miami that flaunts masks and basic health protocols in the middle of a pandemic that has disproportionately killed untold members of Black and brown communities. I don't care to be a part of a tech community that thinks that the path to creative tech solutions to the biggest problems in the world is to get a bunch of wealthy white guys to move there for the weather.
It takes a long time to build a truly thriving, world-class entrepreneurial tech community. Union Square Ventures raised its first fund in NYC in 2004 and it wouldn't see the first local IPO from that fund, Etsy, until 2015. The biggest tech IPO in New York, Datadog, came four years later, with companies like MongoDB coming in between.
In other words, not only are we really just getting started, but we're focusing our effort on an inclusive, accessible entrepreneurial community. While Miami's Mayor wants to see their city start investing in crypto, Mayoral hopefuls like Kathryn Garcia are looking to start microloans for small businesses.
True New York City locals realize that the city needs everyone to be successful for this plan to work—and I'm excited about what our collective post-vaccine exhale will bring to NYC.
Our vaccine efforts are currently leading the country. Those who left New York City are now lamenting the fact that, for many people, had they stayed in NYC, they would have had access to vaccines sooner.
Imagine what a full Spring and Summer of outdoor activities will look like in New York City when paired with a measured return of shows, movies, and sports events. I believe we're going to find a way to bring Broadway outside this summer—imagine having that AND beaches in the same city.
This is going to be one hell of a party—yet, as we've seen in the last year, still a responsible, safe one. We can do both.
Imagine what it will feel like to hop on the subway to attend outdoor tech talks in different parts of the city and to be in a co-working space with co-workers and tech friends. You may not ever want to go into the office five days a week again, but I know you're going to want to be out and about with interesting people after work. That's not exactly the kind of thing you can do on a whim when you're in a cabin in the woods.
Imagine both not only having fun with friends and neighbors but building your business with the aim of caring about them.
The last five deals I've seriously considered investing in from the Brooklyn Bridge Ventures, three of which I've committed to, are healthcare deals that all expand access in some way. These are the kinds of companies you get when you have a founder base that looks more like a CUNY classroom than a Silicon Valley "mafia".
New York City is the only place in the country that can lay claim to having an accessible, diverse community of founders, a government built around the intention of taking care of the collective (which we can very much always get better at), multiple multi-billion dollar homegrown public companies, a world-class cultural scene, and the kind of transportation infrastructure that scales well enough that you can get to where you want to go at any time of the day, and live in a wide variety of different neighborhoods while not feeling like you're off the grid—not to mention access to both skiing and the beach (at the appropriate time of year).
Long New York City.
Long New York City Entrepreneurs, Big and Small.
There's lots of work still left to do, but there's nowhere else in the world worth putting in that effort with a higher potential and a better talent base.