Still not sure if your business should employ video marketing? Consider this: by the end of 2021, the average internet user was forecast to spend roughly 100 minutes a day watching online videos. That number was reached and surpassed in 2020. TikTok, the viral video platform, exploded onto the scene with more than 800 million users, viewing over 1 billion videos daily. Why? What happened?
Global events have caused most of the world's population to be movement-restricted and remote-working. We're all glued to various screens more than ever.  And with the growth in video consumption has come an accompanying increase in video marketing. 
Google found that 70% of B2B buyers and researchers increased their online video use. 71% of B2B marketers said they used video content in their strategy. Video marketing will be a cornerstone of an effective B2B marketing strategy in 2021 — here's how to do it right.
Why Video Marketing
2020 has been a harsh one for businesses, but it hasn't been all doom and gloom. 81% of companies implemented video in their marketing strategy, a 63% boost from 2019. This upward trend shows no sign of slowing, with 82% of internet traffic expected to be composed of video content by the end of 2021. 
Ad spend on online video is expected to rise from $45 billion to $61 billion, and 88% of marketers reported positive ROI from their video strategy this year. 
So why is this marketing method so effective? 
Multimedia, particularly video content, captures our attention and holds it longer than any other similar medium. Combining sound, visuals, and text or information allows brands to both inform and entertain. Visually-enhanced storytelling can concisely explain complicated concepts — or help customers learn about new products or services.
Video marketing can help personalize your marketing campaigns. It's powerful and useful in marketing emails, vlogs, websites, social media posts, or even customer onboarding. It's time to take advantage of video, so dust off your video strategy and level up with the hottest trends that will help you succeed in the coming year.
Video Marketing Tips & Trends for 2021
Animated Video Marketing
Animated branded videos and advertisements are one of the hottest marketing trends in 2020, continuing into 2021. The most popular forms of animated marketing include 2D/3D commercials, whiteboard marketing videos, and live-action/animation hybrids. Surprisingly, these animated videos evoke real emotions from your customers and leads — helping build a stronger bond between them and your business.
One trendy format for B2B companies is animated explainer videos. These short videos effectively and quickly describe a product or service. They can illustrate complex business concepts in a unique way that allows brands to express their voice creatively. Explainer videos can also include augmented reality elements that integrate animated characters, environments, and even drawn objects. 
Email Video Marketing
Have you been wondering how to upgrade your email marketing strategy this year? Try adding the word "video" to the subject, which on average increases open rates by 19%, and click-through by 65%. Whether it's a newsletter, a promotion, or an invitation to a webinar, adding a video element can potentially increase conversions by up to 80%.
Including video in your email marketing offers your brand a way to stand out from the multitude of text-focused email marketers. You can also include subscribers' names or business logos to personalize the video experience further. With face-to-face meetings less likely than usual, email videos are another way to keep connected and relevant to your customers and leads.
Funnel Videos
Video marketing is an irreplaceable part of your marketing funnel journey. The right video content placed at different stages of your funnel, from the first contact down to the final purchase, creates a more engaging experience. Funnel videos can offer useful tips, recommendations, and suggestions at each step that can push your lead generation into overdrive.
During the initial awareness stage, your aim is to introduce your brand to your target audience and buyers, then show them how you can solve a problem or enhance their lives. 
The consideration stage is when your customers decide if you can help them. This stage is an ideal spot for how-to video guides and animated explainers.
During the evaluation and decision stages, potential customers want to see evidence your solution works. Testimonials and customer review videos are invaluable here. 
Once a customer purchases, you can show off your product or service's capabilities with video FAQs, demonstrators, and quick start guides.
Live Streaming 
Last year internet users viewed over 1.1 billion hours of live-streamed content. Those viewers stay on the hook three times longer and produce six times more action than other videos. Live streams are personal and public, and viewers respond positively to their authenticity. They offer an ideal solution to replace canceled in-person events and launches.  
The lack of editing in live streams allows viewers to get a more genuine feel for your brand. Simultaneous live chat adds an extra element of communication between you and your viewers. 
Twitch.tv has given a considerable boost to live-streaming, and the market has acted accordingly. Facebook, YouTube, and even LinkedIn have well-developed live-streaming features. A good strategy is to highlight your evergreen content streams for potential leads and customers to access later.
It's important to note that live-streaming isn't for everyone. It has to fit your marketing needs — and remember that not everyone is good on camera. However, live-streaming is one of the best methods to educate your audience and understand their requirements in these socially-distant times.
Optimize for SEO
As users turn increasingly to online resources to answer questions, making sure your solution stands out in search results is vital. Like your other content, video is an integral part of your SEO success. High-quality, attention-grabbing videos strategically placed on your site lead to visitors interacting with your content longer. 
To optimize the videos themselves, use targeted keywords in the title, meta description, and alt text. Using an attractive thumbnail image and including transcripts with your videos are additional methods to boost your video SEO performance. You can also reach high by targeting Google's "featured snippets," the position zero search results that show up partially revealed.
Don't forget to upload your videos directly onto your social media pages instead of link embeds to external platforms. Facebook and Twitter's algorithms will treat you better that way.
Social Video
Over 8 billion videos are viewed daily by social media users in 2020. Making your content as engaging and rewarding as possible for viewers will let your videos stand out from the crowd to the platforms' algorithms. Just putting a video in each of your posts can make a significant difference. 
Each social platform requires a slightly different approach to video. To stay organized, use a social media management tool to keep your accounts organized on one dashboard.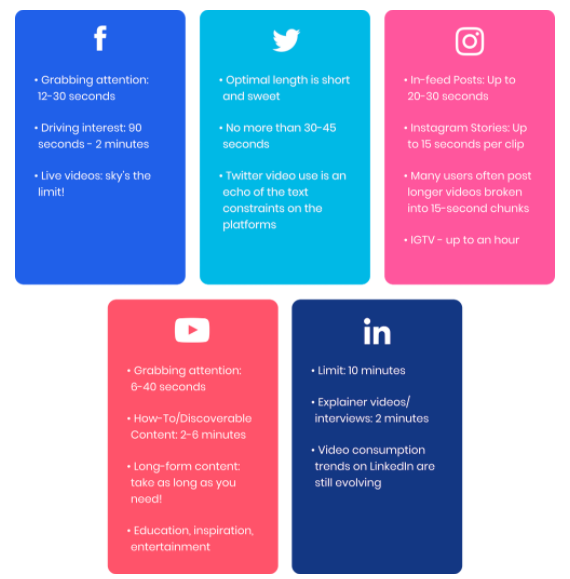 YouTube offers brands the largest potential organic reach. It's important to cater your video uploads to both your audience and the site's algorithm. Instagram doesn't have as much organic reach compared to YouTube. However, regular posting of highly-engaging and relevant video content will increase the likelihood of your content being shared. 
Relative newcomer TikTok is a great place to show off your brand's and workers' personalities, as well as stay up to date on viral trends. Facebook is the crown jewel of paid social video content. It's targeting system is unrivaled for finding matches to your buyer personas and audience. 
Pro-tip: When producing videos, it's crucial to know that vertically formatted videos across your platforms are a must. They have a 90% completion rate, more than any other video format.
Virtual Events
Virtual events were gaining steam before the pandemic, but the number of live business events has doubled in the past year. While they sometimes require substantial effort, time, and capital, the payoff can be significant. Virtual events allow you to organize industry leaders from all over the world to speak — with no worries about plane tickets, venues, or caterers. 
Online events create an immersive way for your customers and potential leads, who might not have been able to attend an in-person event, to connect with you and learn more. They are an excellent networking opportunity for participants and your employees. 
Like, share, and subscribe
Video content has become an increasingly essential part of a successful marketing strategy. An 800% increase in the time people watch ad-supported and on-demand videos begs to be taken seriously. Over 100 million people a month are watching YouTube and YouTube live streams in the US alone. That's a lot of potential customers.
When you're ready to level up your video marketing, Oktopost offers a dynamic and streamlined social media publishing solution. It will help manage your content effectively, boost your productivity, and schedule posts across your social media platforms.
Online video changes how B2B marketers and buyers consume, absorb, and share information in a remote-oriented world. By taking advantage of video marketing on social media and live stream platforms, you create a deeper connection with your audience and tap into the current video consumption zeitgeist. Use our eight tips and trends in 2021, and you'll be sure to see real results that improve your bottom line.